Garçon logo black & gold cap 🌟
Look your sexiest with Garçon® — Premium quality & style.
Our commitment is to make you look and feel your absolute best. We do so by selecting the best fabric for optimum comfort and by designing the hottest styles that will bring all the boys to your yard!
For hygiene and safety reasons all underwear, swimwear, hats, and harnesses are final sale and non-exchangeable. 
Customer Reviews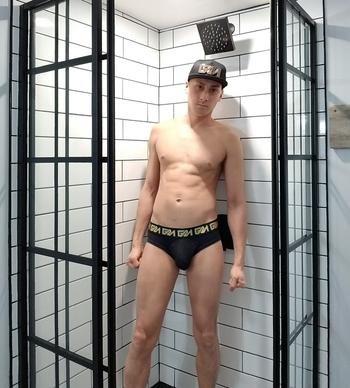 02 January 2021
Classy and sexy!
The logo is plastic but black and gold is the perfect colour combination. Goes great with matching Miramar underwear!
Kevin C.

Canada
01 August 2021
Loving it
Fits my head nicely! On the heavy side but still wearable
Etienne A.

Canada
30 June 2019
Very cool. Love the metal logo.
02 June 2019
Been a long time fan and customer. I love repping the brand and the hat looks AMAZING!!!
02 June 2019
The hat looks great. The gold logo is super nice.
31 May 2019
Awesome hat. Rocking it in NYC and recieved a few compliments already.
31 May 2019
Everyone loves my hat. I wear it with my harness for circuit parties. Awesome material.
29 May 2019
I love to represent GM in the streetz!
25 March 2019
Nice addition to my GM wardrobe.
26 January 2019
Great quality. Love the big ass metal logo!
14 January 2019
Much better quality than I expected for the price. Looks pretty expensive actually.