Our stylish trunks are made from ultra-soft and breathable bamboo fabric and offers unparalleled comfort.
Ultra soft fabric and waistband
Tagless for itch-free comfort

95% Bamboo, 5% Elastane 
Our sizes lean toward a more European fit with lower rises and slimmer cuts.
BETWEEN SIZES? If so, we recommend sizing up.


Underwear laundry tips:
✅ Turn your garments inside out and separate them by colours.
✅ Machine-wash on cold to warm temperatures.
✅ Line dry or tumble dry on low heat.
🚫 Avoid washing with anything abrasive, such as denim or garments with velcro or zippers.
🚫 Avoid chlorine bleach.
🚫 Do not iron.
Swimwear is easy:
Wash on delicate cycle or hand-wash in cold 💧with a gentle liquid detergent.
Lay flat to air dry.
Customer Reviews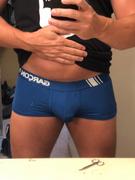 02 July 2020
Awesome underwear
So comfortable and fits all of it in due to its bamboo soft stretch fabric. Not tight in the pouch unlike others.
Derek A.
United States
24 June 2020
Love them
Delivered quite fast. Reasonable amount declared for customs, I appreciate.
Nick S.
United Kingdom
05 June 2020
Navy Elite Sport Trunk -- Great Underwear
The sleek styling and firm support
HAKES
United States
20 May 2020
Amazing
Love the cut and they way it fit all around.
Frank D.
United States
09 September 2019
Amazing customer service...top notch!
08 September 2019
Absolutely awesome! Great quality for a fantastic price. Will be buying more.
04 August 2019
These are so soft to wear, I even forgot I was wearing them. I purchased a L and really need XL so was amazed. Nest time I see and XL on sale I;ll het another pair. Thanks
22 June 2019
I ordered them a month ago and they still haven't arrived so I'd say they are far worse than expected.
25 June 2019
Garçon Apparel
Hello Brodie, we're sorry to hear that your package hasn't arrived yet. The postal services can be very slow and frustrating. Have you tried out your local post office? The package may have arrived and they may hold it for you. It should definitely arrive this week at the later. Let us know if you have any more issues.
29 March 2019
Great product. Great service. Love my purchase!
28 March 2019
My friends recommended them to me and I'm not disappointed. Will recommend to even more of my friends.
28 March 2019
Good price. Got 10 during one of the big promotion and I'm stocked for a year now!
28 March 2019
Been a long time customer and really like Marcus at customer service. Very friendly and helpful.
09 March 2019
Very soft fabric and got fit
15 January 2019
Great Products. Your website is buggy.
27 September 2018
Absolutely fantastic quality. Best underwear I've ever had and good value for money. Will certainly be ordering more. Would like to see more bamboo fibre trunks as they are just so comfortable and breathable.
28 September 2018
Garçon Apparel
Thank you very much for your review Carl. Yes, more bamboo fabric undies are definitely in the works! Cheers, Vitor üòÄ
07 September 2018
Very quick delivery. I knew what I was buying, so no complaints for the products.