Men's Swimwear
ATOMIC Swim Brief
Look your sexiest with Garçon® — Premium quality & style.
Our commitment is to make you look and feel your absolute best. We do so by selecting the best fabric for optimum comfort and by designing the hottest styles that will bring all the boys to your yard!
For hygiene and safety reasons all underwear, swimwear, hats, and harnesses are final sale and non-exchangeable. 
Customer Reviews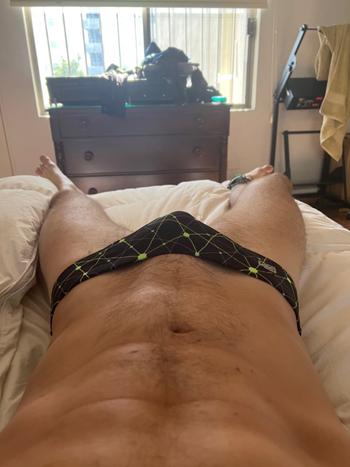 11 February 2022
Sexy but need a little more coverage
Everything is perfect except the front is a little too narrow. If your on the bigger side you will be a little exposed.
Sean M.

United States
11 September 2021
Nice, comfy
They look nice, fit is good. Comfortable.
John L.

United States
05 June 2020
Atomic Swim Brief
The Atomic Swim Brief fits me perfectly. Love the colour and design. Can't wait to hit the beach.
Lescott B.

Canada
18 December 2019
I ordered the wrong size and Tommy was able to help me correct the order before it shipped. Super happy with these!
18 December 2019
Some of the best swimwear I ordered recently. Great quality!
14 October 2019
These are amazing! Love the print and cut!
17 July 2019
Man those are Fire! Can't wait to take them to my next vacation.
03 July 2019
Aronik can go to get a new business. These are awsome quality, much nicer style AND MUCH cheaper! Thank you GM!
19 June 2019
Excellent products always, thank you !
01 June 2019
Bought them for my boyfriend. I think he's going to like them!