Baby blue but with an edge 😎
True to size
Low-rise cut

82% Polyester / 18% Spandex
Look your sexiest with Garçon® — Premium quality & style.
Our commitment is to make you look and feel your absolute best. We do so by selecting the best fabric for optimum comfort and by designing the hottest styles that will bring all the boys to your yard!
For hygiene and safety reasons all underwear, swimwear, hats, and harnesses are final sale and non-exchangeable. 
Customer Reviews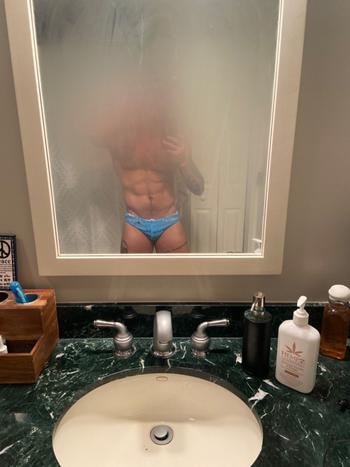 06 June 2020
Blue Graffiti - Sexy
The cut is super flattering And sexy from the front. Excited to bring them to the beach for some sun and fun .
Robert W.

United States
08 September 2020
Great fit
Material, fit, the colour .. very unique product love it
Pierpaolo I.

United Kingdom
11 July 2020
Perfect
The swimming trunks fit perfectly and are a real eye-catcher
Ralf P.

France
23 April 2020
Amazing!!!!
Great product! Quality! Soft and comfortable! Since buying this I have bought more! Great customer service!
18 December 2019
Sexy speedo style swimsuit. Planning on wearing it in Puerto Vallarta for new year
08 December 2019
Please bring more prints!
04 July 2019
Most comfortable underwear, period.
23 June 2019
better than the competition. I feel bad for people wearing other crappy brands (JJ malibu and aussiebum, I'm talking to you). Keepo up the great quality!
23 June 2019
Modern looking. Really like the material
03 June 2019
Love them! The whole graffiti collection is awesome!
03 June 2019
True to size. They are my favorite pair of speedos from you guys!
02 June 2019
Better quality than aronik.
30 May 2019
You guys do the best swimwear!
29 May 2019
Please bring more prints!
28 May 2019
When style meets awesome swimwear!
27 April 2019
These feel a bit baggy on me. Full disclosure, I'm a bit of a twink.