Sun's out, buns out! Looking to upgrade your style and sex appeal? Garçon Model swim briefs are the perfect fit!
Our sizes lean toward a more European fit with lower rises and slimmer cuts.
BETWEEN SIZES? If so, we recommend sizing up.


Underwear laundry tips:
✅ Turn your garments inside out and separate them by colours.
✅ Machine-wash on cold to warm temperatures.
✅ Line dry or tumble dry on low heat.
🚫 Avoid washing with anything abrasive, such as denim or garments with velcro or zippers.
🚫 Avoid chlorine bleach.
🚫 Do not iron.
Swimwear is easy:
Wash on delicate cycle or hand-wash in cold 💧with a gentle liquid detergent.
Lay flat to air dry.
Customer Reviews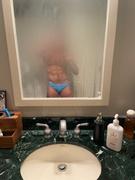 06 June 2020
Blue Graffiti - Sexy
The cut is super flattering And sexy from the front. Excited to bring them to the beach for some sun and fun .
Robert W.
United States
23 April 2020
Amazing!!!!
Great product! Quality! Soft and comfortable! Since buying this I have bought more! Great customer service!
LP
Lee P.
18 December 2019
Sexy speedo style swimsuit. Planning on wearing it in Puerto Vallarta for new year
08 December 2019
Please bring more prints!
04 July 2019
Most comfortable underwear, period.
23 June 2019
better than the competition. I feel bad for people wearing other crappy brands (JJ malibu and aussiebum, I'm talking to you). Keepo up the great quality!
23 June 2019
Modern looking. Really like the material
03 June 2019
Love them! The whole graffiti collection is awesome!
03 June 2019
True to size. They are my favorite pair of speedos from you guys!
02 June 2019
Better quality than aronik.
30 May 2019
You guys do the best swimwear!
29 May 2019
Please bring more prints!
28 May 2019
When style meets awesome swimwear!
27 April 2019
These feel a bit baggy on me. Full disclosure, I'm a bit of a twink.
13 April 2019
Love them but need to wait until my vacation to report more.