You will fall in love with this sexy jockstrap for men! 
Snug fit (size up for comfort)
Tagless

82 % Nylon /18 % Elastane

Look your sexiest with Garçon® — Premium quality & style.
Our commitment is to make you look and feel your absolute best. We do so by selecting the best fabric for optimum comfort and by designing the hottest styles that will bring all the boys to your yard!
For hygiene and safety reasons all underwear, swimwear, hats, and harnesses are final sale and non-exchangeable. 
Customer Reviews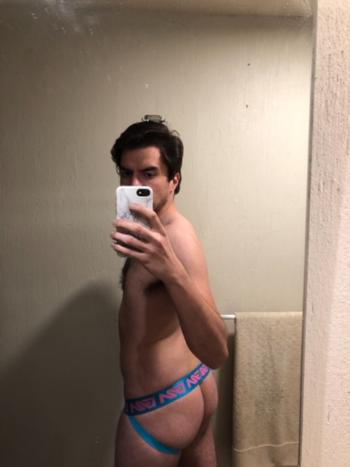 20 December 2020
Oh it's tight!
I mean the colors and everything looks good but it's a little bit tighter than the other jocks I bought before. Maybe buy a size up I feel like it's a small size rather than a medium.
Rafael A.

United States
02 June 2019
Customer Service is amazing. I ordered the wrong size (silly me!) and Tommy was able to help save the day. So happy I got my undies and they fit like a glove!
02 June 2019
Fast delivery. Terrific product!
17 March 2018
Extremadamente muy bien y este fantasticos en la carrera que lleva ooooo
01 June 2017
I have purchased 4 Garcon Model briefs. I love the overall fit, full seat, wide waist band, and the electric colors. They are my favorite underwear and always make it to the top of my underwear draw. A great brief!
31 May 2017
I originally bought 2 pairs of the black boxers and have loved them ever since buying them. They fit snugly ever after a year of use, washing, and more use. I use these for running, weight lifting, hiking, biking. They keep a great temperature, no sweat buildup, no chafing issues at all. There's no sign so far in anything getting stretched out, no issues with lingering odors, or tears at all. I've worn down the inner thighs a bit as my thighs are rather large, but it doesn't appear to be affecting the boxers at all.
05 August 2015
I have now purchased four pair of briefs, and they are by far the most comfortable briefs I have ever worn. I especially like the excellent fit, wide waistband, vibrant colors, and the full seat. I will definitely buy more pairs. Have you thought of adding some new colors like: cobalt blue, orange, lemon, or burgundy? These would be great additions to my underwear draw. I find that my garcon briefs always make it to the top of my underwear draw. Thanks for a great product!
02 June 2015
I own about a hundred jockstraps and these are making my top 3. The pouch is supportive, the fabric is super soft and comfy and they look like a million bucks. DEfinitely worth getting.
02 June 2015
Don't quite like the double ply pouch but good jock. Bf is happy!