Men's Briefs
WATSON Brief
Supercharge your underwear drawer with this bold brief!
Snug fit (size up for comfort)
95 % Polyester, 5 % Spandex

Supercharge your underwear drawer with this bold brief!
Snug fit (size up for comfort)
95 % Polyester, 5 % Spandex

Look your sexiest with Garçon® — Premium quality & style.
Our commitment is to make you look and feel your absolute best. We do so by selecting the best fabric for optimum comfort and by designing the hottest styles that will bring all the boys to your yard!
For hygiene and safety reasons all underwear, swimwear, hats, and harnesses are final sale and non-exchangeable. 
Customer Reviews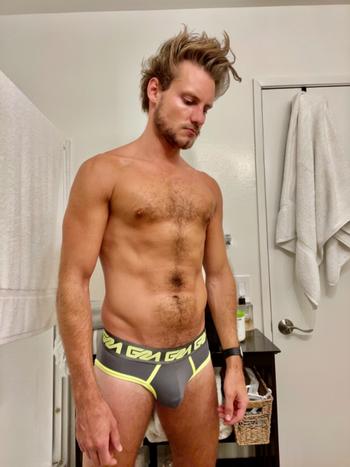 08 June 2021
Perfect Fit and feel
Fit perfectly. Super soft but with the perfect amount of stretch. Great color combination.
Sean M.

United States
24 December 2021
Awesome
Looks just awesome!
Stefan W.

Germany
30 November 2021
Look and quality are amazing, not for well endowed guys
These are very nice and they look amazing. I wish the pouch was bigger, When I wear them the part of fabric around the pouch sits off my body a solid 1/2" and i feel that there could be a larger pouch or a more stretchy fabric for the pouch. Im really quiet sad that they don't fit me because they look amazing. I also bought some of the boxer briefs and they are the exact same way, i just like having a dedicated space for all of my anatomy to be held. I am not a fan of the ideology of squishing all of myself back inside. It just doesn't work. I think the problem could be solved very easily with a little larger inseam. I also ordered an airjock, and the pouch itself on that is amazing, tho i'm not a fan of the "ball support" but that's just me.
Cameron

United States
26 October 2021
Great Undies!
The fit is amazing! The fabric is super eco for table and I like the colors. Great undies all around!
Robert C.

United States
24 February 2021
Wonderful pair
Fits great, vibrant color, great texture, exactly what I was looking for.
Keegan A.

United States
23 February 2021
The perfect gift!
I bought these for my best friend. He said he wanted bright colors and cute. Well, these exceeded his and my expectations! They look great and the bright highlighter yellow makes it for these undies! Thanks Garçon!
Robert H.

United States
22 April 2020
Extremely comfortable
Great fit, very comfortable, breathes well and looks great!
08 September 2019
Absolutely amazing Quality and fit. Will buy more, soon.
06 December 2018
Fantastic fit and feel to these briefs
28 October 2018
Excellent design and quality of the product.
24 August 2018
I love everything about these briefs; style, fit, color, comfort. Some of the best underwear I have ever owned.
23 August 2017
The best pair of undies I own so far. Tried them all. Will buy more for sure!
17 July 2017
I found the fit to be tighter than most - I usually wear mediums for everything with no trouble, but the fit was all wrong on my body. It made me feel pretty unattractive and I rarely wear them. Unless you're really trim, err on the larger size.
01 June 2017
I only wear this brand because I love it so much! Great quality, comfortable fit, sexy look, no complaints! 10/10
08 September 2016
Best underwear ever. They feel great and "enhance" what I got. ;)