These are the flashiest jockstraps you'll ever slip into!
Snug fit (size up for comfort)
Tagless

82 % Nylon /18 % Elastane

Look your sexiest with Garçon® — Premium quality & style.
Our commitment is to make you look and feel your absolute best. We do so by selecting the best fabric for optimum comfort and by designing the hottest styles that will bring all the boys to your yard!
For hygiene and safety reasons all underwear, swimwear, hats, and harnesses are final sale and non-exchangeable. 
Customer Reviews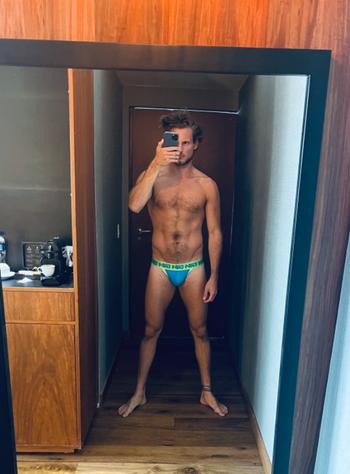 29 June 2021
Great fit with some fun colors
Perfect fit, great color, feels great
Sean M.

United States
11 February 2022
Wonderful
Great. Comfy in and out of the gym.
Sean M.

United States
30 May 2020
Jakub
Sexy and nice. Very good product and quality!
Jakub P.

Poland
28 April 2020
Jockstrap Comfort
I like the style, but can be a little tight in the junk area. Overall great pair.
11 December 2019
Saw them on someone at the club and HAD to have them!!
31 May 2019
Perfect for the club. I get lots of comments :)
03 May 2019
Very comfortable jockstrap either the pouch and the straps. The blue pouch and the yellow/blue elastic waistband are very beautiful. As jockstraps fan (I wear jocks every day) I own Dade and So.Be jock form Garcon Model too and I love it. I have many jockstraps from other brands too. So be proud to wear jocks the more comfortable underwear in my opinion !
05 May 2019
Garçon® Menswear
Merci beaucoup Alain for those kind words! So happy you enjoy proudly our jocks! üòò, Marcus and the Garçon Model team!
25 March 2019
Arrived on time. Very happy!
08 September 2017
I'm falling in love with that brand. They are very comfortable and light weight. The fit is perfect. I will be buying more pairs. You guys rock!
23 June 2017
I own about a hundred jockstraps and these are making my top 3. The pouch is supportive, the fabric is super soft and comfy and they look like a million bucks. DEfinitely worth getting.
01 June 2017
Waist bands are very comfortable and supportive. In love with the different styles and colorful prints. Definitely a show-er! I have a jock and the straps keep things perky and comfortably restrictive.
01 June 2015
I like the thicker waist band and the backstraps sueded feel. Attention to details and great color scheme. You guys rock!
31 May 2015
Absolutely LOVE them!!! I own all of them and love the colors! Big jocks fan here and these ones are my favorite right now. definitely recommend them.
31 May 2015
These jocks are super fun! The colors are out of this world and the straps are super soft and wide enough not to cut into your ass. The stitching in between the legs is also perfectly done to prevent the straps from turning. Great job guys!
25 March 2015
My fav' jocks ever. Never seen jocks that colorful. Really fun to go to the cluuub!!